I went to my forever home on January 27, 2018!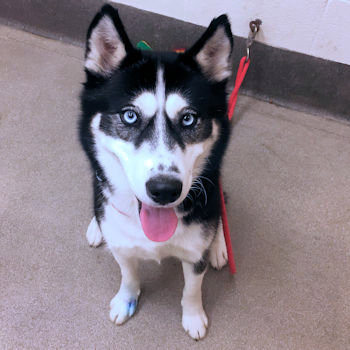 171125 masca
Birthday:
October 31, 2015
What am I?
Spayed female Siberian Husky
Colors:
Black & white, blue eyes
Weight:
45 pounds (as of 11/13/17)
Experience with Children:
My history with children is unknown. Since coming to Pet Harbor, I have interacted with children ages 0 to 18 and all interactions with them have been positive. I love kissing them and being as close to them as possible and even watching over them while they sleep, protecting them against predators, real or imaginary. 🙂
Experience with Cats:
My history with cats is unknown. Pet Harbor has performed tests for cat-friendliness. Two short initial tests produced inconclusive results. I didn't show aggression in either of them, but I did stiffen and have a focused stare. On 12/4, I was fully cat-tested. A nonmoving cat hissed at me. I ignored the cat before the hiss. I looked at him when he hissed but quickly moved my glance and body away from him. Then another cat ran. I took chase. Of course, I was not allowed near enough to see if I would bite. I was fixated on the running kitty. When the kitty went out of my sight (I was leashed the whole time.), I stood there barking incessantly. Pet Harbor isn't convinced kitties would be safe living with me. On 12/11, I saw a cat about 10' away. The kitty did not move. I stared and barked at the kitty. I wasn't allowed close enough to harm, but I sure tried to get there.
Experience with Dogs:
My history with dogs is unknown. Before coming to Pet Harbor, a dog-dog test was performed at the shelter with another female dog. I wagged and played. Since coming to Pet Harbor, I have interacted with multiple dogs around my size. Those interactions have been without incident and very playful. There is a small dog in my foster home (10 pounds). I chase the small dog and won't allow her her personal space. My foster parents have to be careful to keep mini dog safe when I am near her.
Energy Level:
Medium-High
Owner Aptitude Level:
Novice
History:
Running at large, I landed in an animal shelter. The shelter found out I had a microchip and located my humans. They said they gave me away a year ago. Nobody else came forward. So I came to Pet Harbor.
Dream Home Minimum Requirements: A lucky lady I am. Many Siberians have one job. I am lucky enough to have two! Primary job is as a crime fighter, a masked crusader. I love to run. After all, masked crusaders need to run to chase criminals, right? Running masked crusaders are so beautiful… or at least THIS masked crusader is beautiful, running or otherwise. Kinda funny I am a masked crusader whose birthday is on Halloween, isn't it? I would love to go trick-or-treating with my new family! My part-time job is as a member of the snack police squad. Someone could unwrap a candy bar on the other end of the house. My exceptional ears and attention will spring into action. Even when my foster family tells me their snack is off limits to me, I will lie nearby, all the while with a faithful eye guarding the snack. You see, I am great at both jobs. And if that's not enough, there's always the sugar on top. Yes, sugar because I'm sweet and loving and the life of the party. Be it a loud party, lots of bustling, loads of visitors, I'm the center of it all. So how about it? Bring me into your family and let's have a "Gotcha Day" party!