I went to my forever home on August 4, 2019!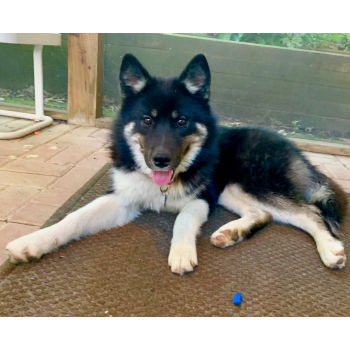 7/1/19 Parker & Ragusa 1
Birthday:
December 17, 2018
What am I?
Spayed female Siberian Husky
Colors:
Black & white, brown eyes
Weight:
35 pounds (as of 7/11/19)
Experience with Children:
Pet Harbor does not know my history with children. Since coming to Pet Harbor, I have met children of all ages and have showered them with love & kisses.
Experience with Cats:
Pet Harbor does not know my history with cats. Pet Harbor did an evaluation and exposed me to a cat. I did not show aggression towards the cat. I was friendly with the kitty. No, I was not priming him! Siberian Huskies tend to have a strong prey instinct and often show extreme, even fatal, aggression towards cats. While our evaluation was favorable, it may not translate to all cats under all circumstances.
Experience with Dogs:
Pet Harbor was told I previously lived with multiple dogs. I am a puppy and constantly play with other dogs.
Owner Aptitude Level:
Young Northern breed experience preferred
History:
Along with others, I was part of a court case. Custody of all of us was awarded to the jurisdiction of our residence. From there, I came to Pet Harbor.
More About Me: Ants. Yes, ants. I have ants in my pants. Sitting still is certainly not in my repertoire. Who wants a statue husky? That would be beneath me! Causing trouble, on the other hand, is not beneath me! If it exists, it's an invitation, right? I can get into it? Right? Furniture, countertops, shelves, etc., are not obstacles. These are things to explore and climb. Everyone knows that that's where you find the best stuff to play with. And nothing will hold me. I can and do chew my way through everything. After all, I am a Siberian Husky puppy, and isn't that what you expect from a Siberian Husky puppy? Besides, exercise is good. Everything needs exercised. No toy, leash, or shoe gets a reprieve from my "exercising" it! A typical day for me starts off by waking up for sunrise wrestling practice with my favorite Uncle Parker followed by nonstop cycles of eating, napping, and more playing. About my shyness/fear, with a bit of work (attention, love, training, continuing what my foster parents have started), I am going to be a fantastic dog. I am significantly more comfortable and at ease outside in the yard than in the house. For instance, outside, a set of steps doesn't need a second thought. Inside, however, a staircase requires careful consideration and caution. Likewise, people in the yard are probably friendly, but inside the house, that same person might be dangerous and should not be immediately trusted. I am fairly vocal. The more comfortable I get, the more increasingly quick I am to bark or howl my little head off to let you know when I am unhappy or need more chewies. I take all of my cues from Uncle Parker (also available for adoption). So if you get him to do something you want him to do, I am usually quick to follow suit. The best home for me will have at least one other dog around my size or adopt Uncle Parker, too! One more thing – I am a foodie and haven't met a treat yet that I don't like. Luckily for me (teehee), Uncle Parker usually drops any treats he is offered. So I have learned to scoop in quickly and snag them for myself. Oh, one last thing. I like "dens." I like to crawl into tight spaces to explore, hide, play, etc., but I can do without those things humans call crates. So if you are looking for a puppy who is animated, needs a bit of work, and will reward you in spades, I'm your gal!