I went to my forever home on March 13, 2020!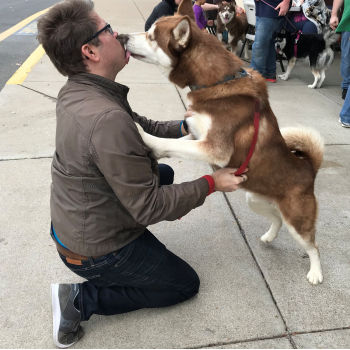 1/11/20 Coffey Kisses
Birthday (approx):
November 15, 2018
What am I?
Neutered male Siberian Husky
Colors:
Red & white, blue eyes
Weight:
47 pounds (as of 12/9/19)
Experience with Children:
At my foster home, I have met children of all ages and have been great with them. In fact, I have lots of kisses for the 3yo. You can call it cleaning her face of the food all over it if you want. I prefer to call it love.
Experience with Cats:
Pet Harbor was told I was okay with cats but chased them. Then when I left the shelter, I spent the night with a family with kitties before I was transported to my foster home. They introduced me to the kitties, and I was fine with them. Then on 12/13/19, Pet Harbor introduced me to a kitty. I mostly ignored kitty. I had other things on my mind. While the kitty did catch some of my attention, it wasn't predatory attention. On 12/28/19, Pet Harbor introduced me to more kitties. I completely ignored them. I was more interested in the kitty litter. Siberian Huskies tend to have a strong prey instinct and often show extreme, even fatal, aggression towards cats. While I did not display aggression towards the cats mentioned here, that may not translate to all cats under all circumstances.
Experience with Dogs:
I can take them or leave them. When I first got to my foster home, I was in my element with other dogs, but the longer I've been here, I've decided while I really love playing with them, I also like to puff out my chest and ruffle my feathers. So I can be Barney Bad Boy with other dogs as well. So my home can have dogs or can be dog-free. Well, I mean, if I'm there, it won't be totally dog-free. Anyway, either way works for me.
Owner Aptitude Level:
Young Northern breed experience required
History:
The short version is I was surrendered to an animal shelter when my caretaker was evicted. From there, I came to Pet Harbor.
More About Me: Really comical. I love to play. Toss a ball and let me prove it. Grab a toy and let's play. Squeak a toy and watch me fly across the room to the direction of the squeak. I am so much fun and will keep you in stitches. In foster care, I've been good with kids, cats, and dogs most of the time. I'm polite & know commands. Why does Pet Harbor require I go to an experienced home, then, you ask? Some Siberians make sounds that can be interpreted as mean but aren't. My adopters must understand that vocalization. Here is a video that captures exactly what I'm talking about because my family needs to understand this behavior displayed by an otherwise perfect me! More importantly, how much time do you have to toss me a ball?