I went to my forever home on July 25, 2020!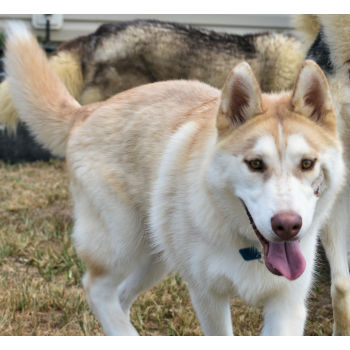 Age (approx):
8 months old
Birthday (approx):
November 18, 2019
What am I?
Neutered male Siberian Husky
Colors:
Red & white, brown eyes
Weight:
52 pounds (as of 7/18/20)
Experience with Children:
Pet Harbor does not know my history with children. Since coming to Pet Harbor, I have met children up to age 7. I have been great with them, but please understand I am all puppy. So I do mouth, meaning I use my mouth in play and can unintentionally hurt fragile skin.
Experience with Cats:
Pet Harbor does not know my history with cats. On 7/18/20, Pet Harbor introduced me to cats. While I did not have a strict focus or stiff body, the cats did get my attention in a friendly fashion. When one attempted to run, I attempted to chase, still seemingly in a friendly fashion. On 7/20/20, the introduction was repeated. See the video in the Movies section below entitled Kitty Land. Siberian Huskies tend to have a strong prey instinct and often show extreme, even fatal, aggression towards cats. Even if our evaluation is favorable, it may not translate to all cats under all circumstances.
Experience with Dogs:
Pet Harbor does not know my history with dogs except that I was found running at large with Bishop, also available for adoption. When introduced to other dogs at the shelter, I was fine. Since coming to Pet Harbor, I have met multiple dogs. I just want to play and play and, well, find stuff, anything, I can investigate and perhaps ingest!
Owner Aptitude Level:
Young Northern breed experience preferred
History:
Running at large, Bishop, also available for adoption, and I landed in a county animal shelter. From there, we came to Pet Harbor.
More About Me: Information coming soon! Note that the funny-looking area on my face was where a mass was removed on 7/18. Though the assumption is it is a histiocytoma (benign tumor), it will be sent for pathology to be certain. If you're interested in me, you must make sure you have researched just what a Siberian Husky is. I've lost at least one home already. So the next one must be my last one. Just as you would with children, you must be willing to work through whatever issues come up. If you're not ready for that, please don't apply to adopt. If you are ready, though, that's fantastic!