I went to my forever home on September 25, 2021!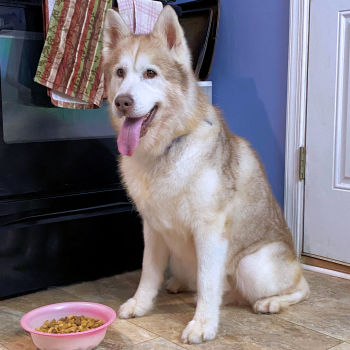 Age (approx):
11 years old
Birthday (approx):
May 11, 2010
What am I?
Neutered male Siberian husky
Colors:
Red & white, brown eyes
Weight:
54.5 pounds (as of 6/2/2021)
Experience with Children:
Pet Harbor does not know my history with children. Since coming to Pet Harbor, I have met children of all ages. While I'm not yet trusting enough to go to humans for petting, they can come to me & pet me. I even gave kisses to one child. I'm learning!
Experience with Cats:
Pet Harbor does not know my history with cats. On 9/12/2021, Pet Harbor introduced me to cats. I paid no attention to them. Even when one meanie swatted my nose & made me bleed, I didn't react. Siberian huskies tend to have a strong prey instinct and often show extreme, even fatal, aggression towards cats. Even if our evaluation is favorable, it may not translate to all cats under all circumstances.
Experience with Dogs:
In my former "home," I lived with other dogs. Pet Harbor doesn't know how much interaction all of the dogs had because we mostly lived in crates, but for 19 months, I've been in the animal shelter awaiting the day in court for our "owners." There, I did have some interaction with the other two pooches who spent the time with me and came from the same "home," Adderley & Malissa, also available for adoption. Since coming to Pet Harbor, I am fostered with other Siberians and have had no issues with them. It's very similar to the other dogs Pet Harbor has had who came from the same circumstance. We all seem to have shyness to varying degrees, no aggression, dog-friendliness, and cat-friendliness.
Owner Aptitude Level:
Shy dog experience preferred
History:
Several Siberians, including me, came from a horrible beginning, yet are amazingly grateful for love. Thankfully, we were seized by the authorities. Our humans were put in jail. We went to the shelter, then the SPCA, and then came to Pet Harbor, each an important piece of our journey to safety. Fortunately, we were taken from our "home." Unfortunately, Malissa, Adderley, and I have spent the last 19 months in the shelter because our "owners" would not sign over the 3 of us. NINETEEN MONTHS LATER, our jail sentence ended, and we got freedom. To read more about our beginning, including watching a video,
click here
.
More About Me: Additional information coming soon. The one major thing to learn about me is my shyness. My history taught me to be cautious. Not only am I learning to be a dog, but I'm also learning basic life. If your life began as mine did, you'd be the same way. We all lived through our hard beginning, which is an amazing feat in and of itself. We're learning and growing, and for some of us, it will take a while. Because of what I had to live through, trusting people is new to me. I am sweet. It's not that I don't want love. It's that I don't know what love is. I'm learning! In my time at the shelter, I got my first lessons in learning how to be loved. I am learning a lot and continue to progress. The more distance I put between the situation from which I came and me, the more things improve for me. I didn't understand how to be normal, how to do most things that come naturally to the majority of dogs. My home needs to be with people with patience, gentleness, understanding, and full of lots of love to give me. Oh, before I forget, my former "owners" said I'm 12. The vet says I'm about 11. Progress is progress, but it takes baby steps to get there. The rewards to humans are immense when a shy dog trusts. The journey to that point is taken by people who are kind, patient, knowledgeable, and understanding. Is that you?