I went to my forever home on December 3, 2021!
Pet Harbor has very strict policies with regard to puppy adoptions to ensure that we have forever homes. Before you consider applying to adopt one of us, please read Pet Harbor's Puppy Policy. Thank you for your interest and consideration!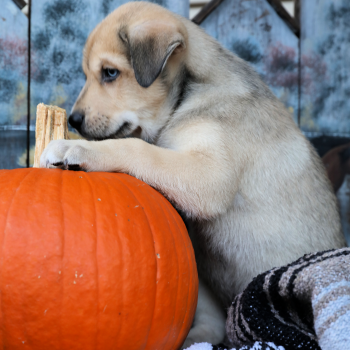 Birthday:
September 25, 2021
What am I?
Neutered male Siberian husky mix
Colors:
Tan & black, blue eyes
Weight:
15.5 pounds (as of 12/1/2021)
Experience with Children:
I'm a puppy. Great with everything, subject to change as I get older.
Experience with Cats:
The best choice for a home with cats is an adult Siberian husky who has been introduced to cats and shown a positive reaction to them. All Siberian husky puppies are cat-friendly, but they often are not when they are a few months old. These puppies are mixes. So we don't have a clue if as adult dogs, they will or won't try to harm a cat.
Experience with Dogs:
I'm a puppy. Great with everything, subject to change as I get older.
Owner Aptitude Level:
Young Northern breed or puppy experience required
History:
My siblings and I were born at Pet Harbor. Giselle, a pup herself, also available for adoption, is our mom. Although it was known to no one, our mom was pregnant when she came to Pet Harbor. On 9/25/2021, she gave birth to six of us.
More About Me: Of course, I am like all the rest of the puppies in the universe. Cute. Cuddly. Snuggly. Untrained. Full of sharp teeth and nails. Lots of pottying everywhere. Puppy breath. Mischievous. Sleepy. Playful. Fun. Not a care in the world. Clay to mold. But guess what. We do grow up!
Our personalities have become apparent. I'm the puppy who reminds my foster grandma of Marmaduke. I'm the big brother. When I run and jump, I'm kind of like a galoot. In the beginning, Harrington & I volleyed for the title of the biggest puppy. Once I took the ribbon, I ran with it. Though I am as happy & playful as the rest of them and like to play with the group or by myself, if you see the rest and can't find me, look for the food bowl. I'm usually lying by it snacking from it.
As soon as my family is found, I am ready to go home. Pet Harbor had DNA testing done for one of us. They chose Britton. The DNA results are here.